CBA Negotiations Update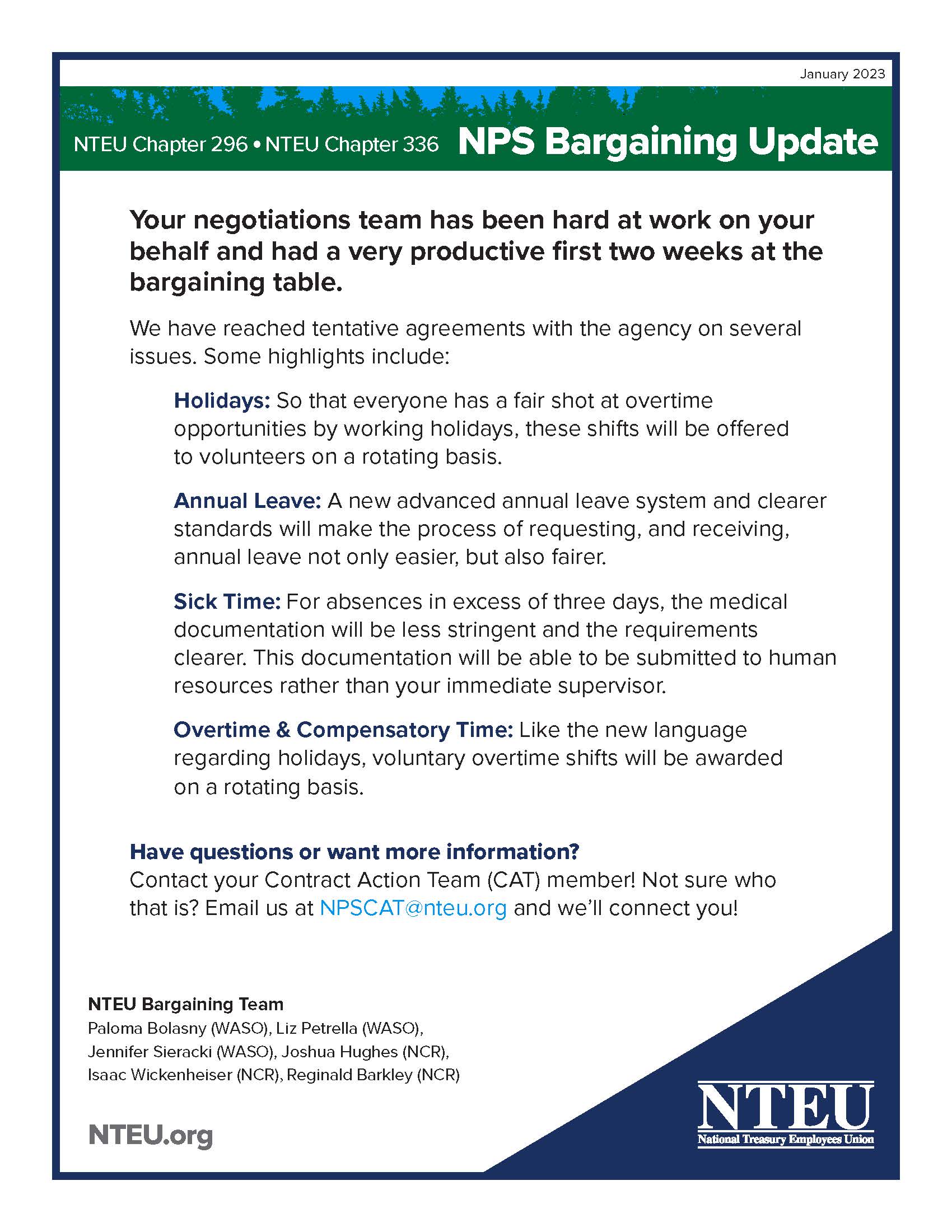 Text:
NPS Bargaining Update
NTEU Chapter 296 l NTEU Chapter 336
Your negotiations team has been hard at work on your behalf and had a very productive first two weeks at the bargaining table.
We have reached tentative agreements with the agency on several issues. Some highlights include:

Holidays: So that everyone has a fair shot at overtime opportunities by working holidays, these shifts will be offered
to volunteers on a rotating basis.
Annual Leave: A new advanced annual leave system and clearer standards will make the process of requesting, and receiving, annual leave not only easier, but also fairer.
Sick Time: For absences in excess of three days, the medical documentation will be less stringent and the requirements clearer. This documentation will be able to be submitted to human resources rather than your immediate supervisor.
Overtime & Compensatory Time: Like the new language regarding holidays, voluntary overtime shifts will be awarded
on a rotating basis.

Have questions or want more information?
Contact your Contract Action Team (CAT) member! Not sure who that is? Email us at NPSCAT@nteu.org and we'll connect you!

NPS Bargaining Update
NTEU Chapter 296 l NTEU Chapter 336
NTEU.org
January 2023
NTEU Bargaining Team
Paloma Bolasny (WASO), Liz Petrella (WASO),
Jennifer Sieracki (WASO), Joshua Hughes (NCR),
Isaac Wickenheiser (NCR), Reginald Barkley (NCR)
Download the flier
Download:

Ch296-336-flier.1.pdf