Legislative Conference 2022
NTEU Legislative Conference 2023
will take place Monday February 27 - Thursday March 2nd.
There will be a wreath laying ceremony at National Law Enforcement Officers Memorial on Thursday at 10:00am.
The memorial is located at: 450 F St NW, Washington, DC 20001 (near the Judiciary Square metro station)
----------------------------------
NTEU Virtual Grassroots Legislative Conference 2022 (March 1-3)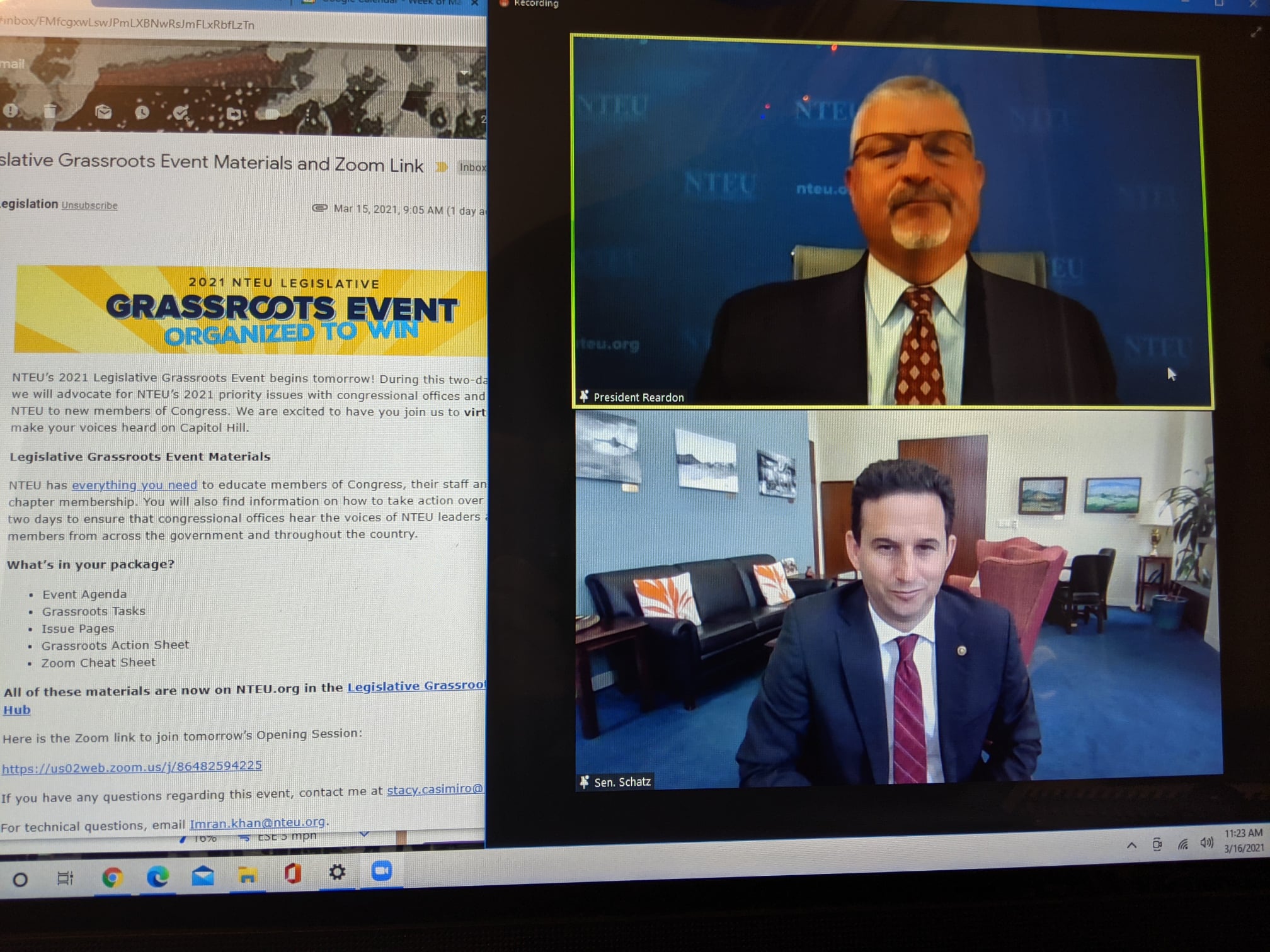 Update coming soon.
NTEU's Legislative Conference Hub is Live
More than 350 NTEU members from around the country advocated for pressing federal employee issues during the virtual Legislative Conference last week.
Over the three-day event, NTEU members delivered messages of support for the union's legislative agenda to their members of Congress during more than 300 virtual meetings.
On NTEU's agenda this year are robust health and safety protocols in the workplace; adequate agency funding; safeguarding and enhancing employee benefits; protecting workplace rights; and a fair pay raise in 2023.
Check out videos from the Legislative Conference opening session, priority issue sheets, congressional voting records and resources to help you take action now on the Legislative Conference Hub.
Plus, read coverage on the conference in The Washington Post.
2021 conference:
The conference is our time to introduce newly-elected members of Congress to NTEU and share our 2021 legislative priority issues with lawmakers on Capitol Hill.
About 300 members of the National Treasury Employees Union from around the country gathered virtually Tuesday to deliver their messages of fair pay, adequate agency funding and workplace safety to Congress. NTEU National President Tony Reardon opened the event by encouraging members to share their personal stories about how the union's legislative agenda can have a profound personal and professional impact on their lives.
Congressional Speakers who appeared:
Sen. Brian Schatz (D-HI), who is sponsoring legislation to give federal employees an average 3.2 percent pay increase in 2022

Rep. Rosa DeLauro (D-CT), chair of the powerful House Appropriations Committee.

Senator Jon Ossoff gave a recorded video greeting (he was scheduled to be live, but had a family emergency)
Shout out to DC area members of congress:
Senator Van Hollen, a very strong federal employee supporter spoke.

Senator Tim Kaine spoke and then, maybe he was bored, but unexpectedly he asked if he could stay for a Q and A.

Rep. Anthony Brown (D-MD, PG County) - 100% NTEU supporter (Each time I hear him, I'm more impressed.)
NTEU's Legislative Priorities:
Each year NTEU invites selected chapters to send a representative to be a member of the Legislative Advisory Committee. This committee discusses important issues facing their chapters and members and then formulates the legislative priorities that NTEU will advocate for. This year the legislative priorities are:
AGENCY FUNDING
In recent years, many federal agencies have absorbed cuts to their budgets that have severely hampered their ability to provide the critical services that taxpayers rely on and resulted in billions in lost revenue. Federal agencies play a vital role and provide critical services to our country.
More information:


https://www.nteu.org/~/media/Files/nteu/docs/member/legislation/grassroots21/lc-2021-agency-funding-final.pdf?la=en

WORKPLACE RIGHTS AND PROTECTIONS
A merit-based, non-partisan civil service is the backbone of our federal government. Proposals to eliminate or restrict collective bargaining and due process rights for these employees would return the civil service to the dysfunctional "spoils system" of the past, driven by patronage and political favoritism rather than ability and merit. NTEU supports efforts to protect employee rights to ensure a fair and transparent workplace where employees continue to have a voice and are not afraid to blow the whistle when they see waste or wrongdoing. In 2018, President Trump issued three Executive Orders (EOs) that impacted bargaining and due process rights for both individual federal employees and federal employee labor organizations. These EOs sought to undermine federal employee unions and their ability to operate in federal workplaces.
More information:


https://www.nteu.org/~/media/Files/nteu/docs/member/legislation/grassroots21/lc2021-issue-sheets-rights-and-protectio.pdf?la=en

FAIR PAY AND BENEFITS
Lagging federal pay rates have taken a toll on federal employees and their families over the last few years, with their pay raises trailing increases to private sector wages. Over the past 5 years, federal pay increases barely kept up with inflation and the average pay disparity between the federal government and the private sector, according to the Federal Salary Council, is 23.11%. This amount is far greater than the 5% goal set by the 1990 Federal Employee Pay Comparability Act.
More information:


https://www.nteu.org/~/media/Files/nteu/docs/member/legislation/grassroots21/lc2021-issue-sheets-fair-pay-and-benefit.pdf?la=en

COVID-19 SAFETY AND HEALTH
President Biden recently issued an Executive Order to protect federal workers, mandate mask wearing on federal premises, and require agencies to develop workforce safety plans. As agencies develop these plans, NTEU believes that these plans must include expanded use of telework and maxi-flex scheduling; paid leave options for employees for COVID-related issues; a halt to all non-essential travel, access to COVID-19 testing and vaccines; notification to employees when a coworker is diagnosed with COVID-19 or asked to quarantine due to exposure; and proper cleaning protocols and sufficient personal protective equipment, sanitizer and disinfectant wipes in all workspaces. Moreover, federal workers continue to face rising health care costs under the Federal Employees Health Benefits Program (FEHBP). For 2021, FEHBP enrollee premiums increased an average of 4.9%, with some participating health insurance plans increasing their premiums by even larger amounts.
More information:


https://www.nteu.org/~/media/Files/nteu/docs/member/legislation/grassroots21/lc-2021-covid-safety-and-health-final.pdf?la=en

TELEWORK
The pandemic has proven, once and for all, the value of a robust telework program in the federal government. Maximum telework policies have protected the health and safety of federal workers around the country, and their families, without sacrificing productivity.
More information:
https://www.nteu.org/~/media/Files/nteu/docs/member/legislation/grassroots21/lc2021-telework-fact-sheet-final.pdf?la=en
NTEU Action Center
Make sure you use the Action Center during off hours and from a non-government computer.
NTEU encouraged all participants to use the Action Center to write their members of congress to support federal employees. In the two days we made over 4,500 contacts with members of congress.
What is the Action Center?
NTEU makes it extremely easy to contact your members of congress about issues most affecting federal employees. The Action Center usually highlights 5-10 issues that affect federal employees and has pre-written emails, just enter your name, location, and personal email, then the Action Center will give you messages for your senators and representative, hit submit, and it's done. It takes about 30 seconds from start to finish.
https://action.nteu.org/
The more annoying persistent we are, the more Congress responds.
TEPAC (Treasury Employees Political Action Committee)
The conference also served as a fundraiser for TEPAC. TEPAC is the political arm of NTEU and is extremely important to our legislative program. TEPAC allows NTEU to support members of Congress who work to protect and defend the rights of federal employee and retirees. TEPAC also helps to defeat members of Congress who are not supportive of NTEU's causes. Donations to TEPAC allow NTEU to support candidates who support us. Donations to TEPAC are separate from our membership dues. Any amount is welcome. As was stated at the conference, none of us have the money of the billionaires who are actively trying to privatize our jobs, reduce our pay, increase the costs of our health benefits, and eliminate our retirement benefits. TEPAC is a way to combine our resources so we can be heard.
Go to:
and click on "Give to TEPAC" in the lower right corner. (Donate during off hours and do not use a government computer to access.)
The conference raised over $7,500 in small donations from members (like me) for TEPAC.
Random Thoughts:
Even with the unfriendly position of the last administration, NTEU still won some important legislative priorities, most notably paid parental leave. (Several members of Congress mentioned trying to expand that to paid family leave.)

Jon Ossoff would not have spoken to us without the hard work of NTEU chapters in Georgia (and those of us outside of Georgia) and he knows his razor thin margin of victory could have come down to us.

The Biden Administration appears to be very firmly in support of unions (both federal and private). Not only did he rescinde the 2018 Executive orders, but did it on day one. He could have done it in the first year, or before the end of his administration, or whenever he got around to it, but he did it on day one. He also gave a strong endorsement for a worker's right to choose a union in the Amazon election going on in Alabama right now.

The administration is expected to release their 2022 budget within the next few weeks. This will further show the adminstration's priorities.

The House has passed the Pro Act which, if passed, would be the strongest support of organizing in the workplace in decades. It is more geared towards private unions, but shows strong union support in Congress.
https://www.npr.org/2021/03/09/975259434/house-democrats-pass-bill-that-would-protect-worker-organizing-efforts