Allies Safeguard Critical Provisions in COVID Relief Package
Allies Safeguard Critical Provisions in COVID Relief Package
It may have seemed like a long shot to secure the extra assistance federal employees need during this crisis: COVID-related emergency paid leave and assurance of eligibility for workers' compensation benefits for employees who contract COVID-19 on the job.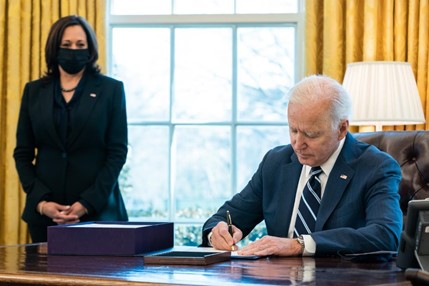 But once again, NTEU members spoke up and your voices were heard. NTEU members sent more than 58,800 letters to members of Congress about pandemic-related relief. And NTEU's allies brought that pressure to the floor of the Senate.

In the latest marathon debate over the American Rescue Plan in Congress, NTEU worked with our allies including Sen. Chris Van Hollen (D-MD), Sen. Gary Peters (D-MI) and Majority Leader Chuck Schumer (D-NY) in the Senate and Reps. Bobby Scott (D-VA) and Carolyn Maloney (D-NY) in the House to make sure the federal workforce had protections left out of previous packages.

NTEU supported these provisions throughout the process and successfully worked to build opposition to efforts to strip the provisions out of the legislation. We sent letters to the House and Senate urging lawmakers to support federal workers. Our allies went to bat for us and worked hard to keep these provisions in the final bill.

And when the dust settled and the bill was sent to the president's desk, it included much-needed assistance for federal employees and their families.
The American Rescue Plan rightly ensures that no federal employee will go without income while dealing with pandemic-related issues.
Federal employees will now have access to up to 600 hours (15 weeks) of COVID-related emergency paid leave if they are:
Diagnosed with COVID-19;

Required to quarantine due to exposure to COVID-19;

Caring for a family member incapable of self-care whose care provider is unavailable due to COVID-19;

Obtaining immunization from COVID-19; or

Caring for a child whose day care or school is closed, whose regular childcare provider is unavailable due to COVID-19 precautions, or whose school requires or makes optional a virtual learning or hybrid in-person/virtual instruction model.
Also included in the bill is a provision that ensures workers' compensation eligibility for federal employees diagnosed with COVID-19 whose duties require contact with others or other risks of exposure to the virus.

Employers should care for their workers and keep them safe during the pandemic. NTEU applauds those members of Congress who fought to make sure federal employees have access to these benefits.